Dealing with hair loss can be really tough, impacting how we look and feel about ourselves. This is where microneedling steps in as a game changer. It's not help in preventing hair fall, but it also helps in growing new hair. Microneedling for Hair Loss offers a complete solution to this common problem.
What is Microneedling for Hair Loss?
Microneedling, a treatment initially used for scars in the 1990s, has evolved as a method to stimulate hair growth. It involves using a skin roller with tiny needles to boost collagen production, beneficial for treating androgenic alopecia and alopecia areata. When compared with platelet-rich plasma therapy (PRP), it effectively addresses early pattern hair loss symptoms in both men and women, improving scalp health and promoting hair regrowth.
The Science Behind Microneedling and Hair Regrowth
Microneedling for hair regrowth employs fine needles to create tiny scalp punctures, initiating natural healing. This process increases collagen production, vital for scalp health, and enhances blood flow to rejuvenate hair follicles. It improves the effectiveness of topical hair treatments by facilitating deeper absorption. Microneedling also activates stem cells in follicles, encouraging a transition from resting to growth phases. This method can reduce scalp inflammation, aiding hair growth, and when combined with platelet-rich plasma therapy, its efficacy in promoting hair regrowth is significantly amplified.
Microneedling for Different Types of Hair Loss
Microneedling is mostly known for treating skin issues like various types of wrinkles; however, it is equally useful in treating scalp and hair fall issues. Studies have shown that microneedling can potentially treat conditions such as Androgenetic Alopecia and some cases of Alopecia Areata.
Androgenetic Alopecia (Male and Female Pattern Baldness):


Androgenetic alopecia, a prevalent type of hair loss, affects both men and women. Referred to as male pattern baldness in men and female pattern hair loss in women, it manifests differently across genders. In men, this condition typically results in a distinct hair loss pattern that starts above the temples.

Alopecia Areata:


Alopecia areata is a condition leading to hair loss, commonly affecting the scalp or beard, but it can occur on any part of the body. Consulting with a board-certified dermatologist can confirm if you're experiencing this specific type of hair loss and provide guidance on effective hair regrowth treatments.
Stages of Hair Fall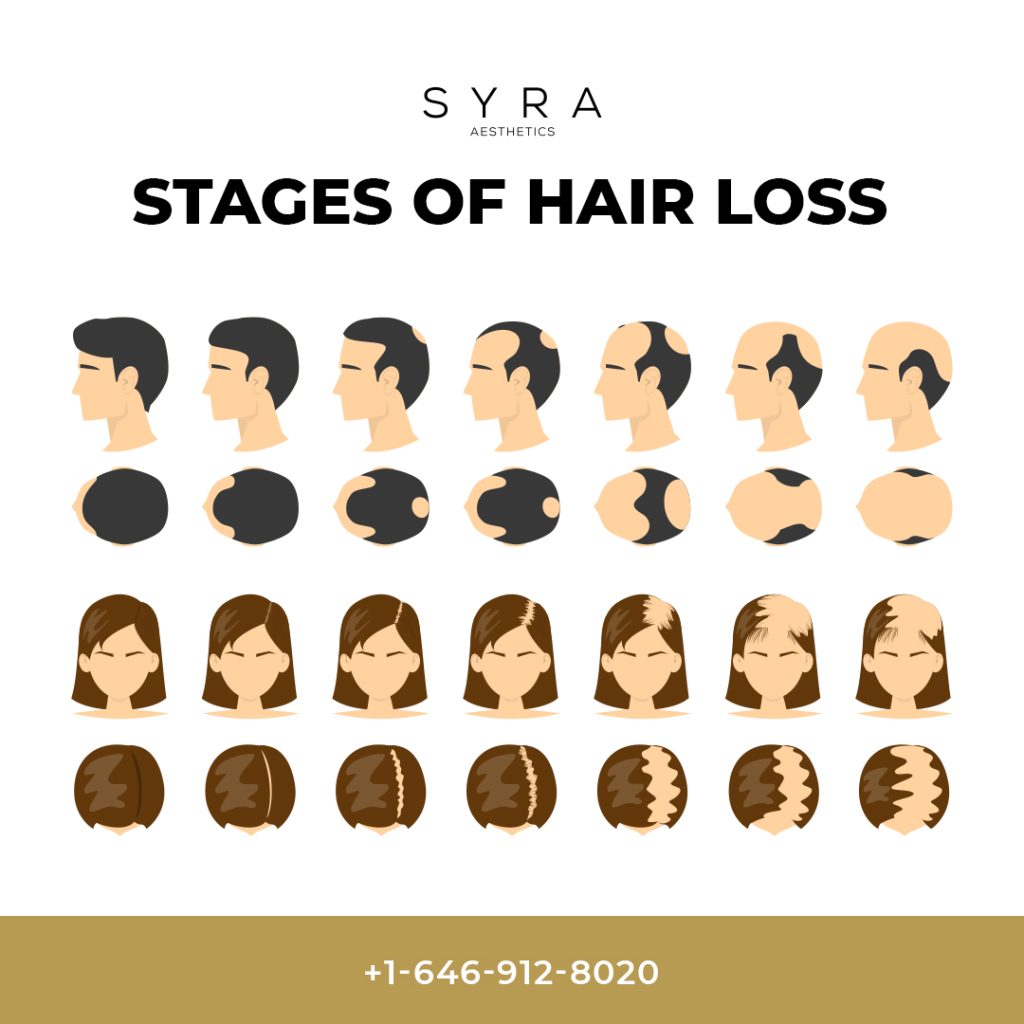 How Often Should You Undergo Microneedling for Hair Loss?
Clinical studies recommend performing microneedling every 1-3 weeks, but these studies are limited to pattern baldness.

The effectiveness and frequency may vary depending on the specific hair loss condition and causes.

Online forums and articles suggest various frequencies, but there is no medical evidence for that.

Overuse of microneedling can lead to scalp damage or other severe issues.

Consultation with a doctor or expert is advised before undergoing treatment.
Real Results: Microneedling for Hair Loss Before and After
Here is what you can expect from the Microneedling Treatment:
Before Treatment:
Thinning hair or visible scalp due to hair loss.

Receding hairline, particularly in cases of male or female pattern baldness.

Patches of baldness, often seen in conditions like alopecia areata.

Overall weaker hair health and density.
After Treatment:
Increased hair density and thickness.

Reduced visibility of the scalp through thicker hair growth.

Improvement in hairline, with hair regrowth in receding areas.

Patches of baldness might show signs of hair regrowth.

General improvement in the health and appearance of hair.
Comparing Microneedling with Other Hair Loss Treatments
Microneedling provides a gentle method to heal the scalp with minimal discomfort, effectively enhancing topical treatments. In contrast, chemical options such as Minoxidil and Finasteride, which are effective for early hair loss, may lead to side effects like scalp irritation or hormonal changes. Alternatively, Low-Level Laser Therapy (LLLT) offers a non-invasive option, though its effectiveness can vary. While microneedling may seem like the most compatible solution, it is recommended to consult a doctor before preferring any treatment.
How Microneedling Is Better Than Hair Transplant?
Microneedling, being minimally invasive, encourages natural hair growth and improves scalp health, posing fewer risks and requiring less recovery time than hair transplants. It boosts the efficacy of topical treatments, avoiding the surgical risks and extended downtime typical of hair transplant procedures. Hair transplant surgery offers permanent results but involves surgical risks and recovery time.
Safety and Side Effects of Scalp Microneedling
Microneedling on the scalp is largely safe, though it can cause minor side effects such as temporary discomfort, redness, and swelling were treated, usually resolving quickly. Infections or irritation are rare but possible, particularly if proper sterilization and technique aren't followed. Individuals with specific skin issues, like eczema or psoriasis, or a tendency towards keloids, should seek medical advice before trying microneedling. Ensuring the procedure is carried out by a professional and followed by appropriate care helps reduce potential risks.
Aftercare and Maintenance Post-Microneedling
For two days following your treatment, steer clear of activities that can raise your skin's temperature, like hot tubs, Jacuzzis, saunas, hot showers, or intense exercise. In the initial few days post-treatment, stick to a gentle skincare routine focused on cleansing and moisturizing. Avoid any scrubbing, rubbing, or exfoliants for a week.
Conclusion
Microneedling for hair loss is a revolutionary approach that not only combats hair fall but also triggers fresh hair growth. This method involves enhancing collagen production, improving scalp blood circulation, and stimulating stem cells. It's effective for addressing different hair loss types, such as androgenetic alopecia and alopecia areata. Treatment frequency should be personalized under medical supervision.
Syra Aesthetics is the perfect choice for those seeking Hair Loss Treatment in NYC. To enhance its effectiveness, we also provide Microneedling with PRP and PEP, all with extensive experience. Book your appointment today!
About The Author

Dr. Syra Hanif M.D.

Board Certified Primary Care Physician
Dr. Hanif is the Director of Aesthetic Medicine. She is a board-certified physician in Aesthetic Medicine who specializes in using non-surgical alternatives in order to enhance one's appearance through Botox and fillers.
Read More